---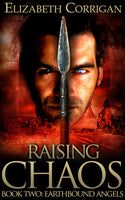 When good fails, chaos rises to the challenge.

The daily life of a chaos demon is delightfully sinful—overindulging in Sri Lankan delicacies, trespassing on private beaches in Hawaii, and getting soused at the best angel bar on the planet. But when Bedlam learns that the archdemon Azrael has escaped from the Abyss in order to wreak vengeance against the person who sent her there—Bedlam's best friend, Khet—he can't sit idly by.

Only one relic possesses the power to kill Khet, who suffers immortality at Lucifer's request: the mythical Spear of Destiny, which pierced Christ's side at His crucifixion. Neither angel nor demon has seen the Spear in two thousand years, but Azrael claims to know its location. Bedlam has no choice but to interpret woefully outdated clues and race her to its ancient resting place.

His quest is made nearly impossible by the interference of a persnickety archivist, Keziel—his angelic ex—and a dedicated cult intent on keeping the Spear out of the wrong hands. But to Bedlam, "wrong" is just an arbitrary word, and there's no way he's letting Khet die without a fight. 
New.