---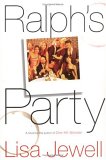 Meet the residents of the London brownstone on 31 Almanac Road who together weave a tangled web of romance. Ralph, a ne'er-do-well artist, suddenly realizes he's head over heels in love with his new flatmate Jem, the most fun and sensible girl he's ever encountered. Unfortunately, Ralph's best friend, Smith, has already won Jem's affections, although Smith has not entirely given up his passion for the femme fatale, Cheri, who lives upstairs. Across the hall, Karl and Siobhan have been happily unmarried for years, until Karl gets a smashing job as a London rush-hour DJ and momentarily gets tempted into Cheri's cozy lair.
These six star-crossed tenants become more enamored, and more confused, as the story progresses-until their true destinies are revealed on one crucial night-the evening of the extravaganza that is . . . Ralph's party. This wonderfully hip new novel was an instant popular success when it was first published in England, and American readers are sure to be captivated by the debut of a talented new writer.
Used. Paperback. Good condition. Some wear and tear. Minor shelf wear to the bottom of the book. Slightly yellowed pages. Price marked in pencil.