---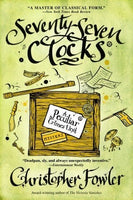 The odd couple of detection — the brilliant but cranky detectives of London's Peculiar Crimes Unit — return in a tense, atmospheric new thriller that keeps you guessing until the final page. This time Bryant and May are up against a series of bizarre murders that defy human understanding — and a killer no human hand may be able to stop.

A mysterious stranger in outlandish Edwardian garb defaces a painting in the National Gallery. Then a guest at the exclusive Savoy Hotel is fatally bitten by what appears to be a marshland snake. An outbreak of increasingly bizarre crimes has hit London — and, fittingly, come to the attention of the Peculiar Crimes Unit.

Art vandalism, an exploding suspect, pornography, rat poison, Gilbert and Sullivan musicals, secret societies...and not a single suspect in sight. The killer they're chasing has a dark history, a habit of staying hidden, and time itself on his side. Detectives John May and Arthur Bryant may have finally met their match, and this time they're really working against the clock.
Used. Paperback. Good condition. Some wear and tear. Minor shelf wear to the bottom of the book. Minor damage to the spine and corners of the book. Price marked in pencil.