---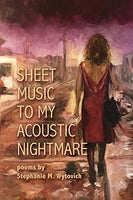 Roll the windows down, wipe the blood off your cheek, and turn the music up. Sheet Music to My Acoustic Nightmare by Stephanie M. Wytovich is a collection spattered with dirt and blood, sage and corpses. The poems inside are confessionals and dirges, their stories the careful banter of ghosts and sinners over tequila at the bar.

These pages hold the lyrics to the beautiful grotesque that Wytovich is known for, but here she writes with a raw honesty that we haven't seen from her before. This new direction takes readers to hospital rooms and death beds, shows the mask that was skinned off her face time and time again. There's a brutality to her lines that cuts with the same knife she fantasized about it, her blood and tears mixed in with stanzas as she talks about suicide and abuse, heartbreak and falling in love.

Written during a time when the road was her home, these poems were sung under the stars and screamed in the woods, carved into trees. They are broken bottles and cigarette butts, stale coffee and smeared lipstick, each its own warning, a tale of caution.
New.