---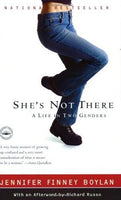 The exuberant memoir of a man named James who became a woman named Jenny.

She's Not There is the story of a person changing genders, the story of a person bearing and finally revealing a complex secret; above all, it is a love story.

By turns funny and deeply moving, Jennifer Finney Boylan explores the remarkable territory that lies between men and women, examines changing friendships, and rejoices in the redeeming power of family. She's Not There is a portrait of a loving marriage—the love of James for his wife, Grace, and, against all odds, the enduring love of Grace for the woman who becomes her "sister," Jenny.

To this extraordinary true story, Boylan brings the humorous, fresh voice that won her accolades as one of the best comic novelists of her generation. With her distinctive and winning perspective, She's Not There explores the dramatic outward changes and unexpected results of life as a woman: Jenny fights the urge to eat salad, while James consumed plates of ribs; gone is the stability of "one damn mood, all the damn time."

While Boylan's own secret was unusual, to say the least, she captures the universal sense of feeling uncomfortable, out of sorts with the world, and misunderstood by her peers. Jenny is supported on her journey by her best friend, novelist Richard Russo, who goes from begging his friend to "Be a man" (in every sense of the word) to accepting her as an attractive, buoyant woman. "The most unexpected thing," Russo writes in his Afterword to the book, "is in how Jenny's story we recognize our shared humanity."
As James evolves into Jennifer in scenes that are by turns tender, startling, and witty, a marvelously human perspective emerges on issues of love, sex, and the fascinating relationship between our physical and our intuitive selves. Through the clear eyes of a truly remarkable woman, She's Not There provides a new window on the often confounding process of accepting ourselves.
Used. Hardback. Minor shelf wear to the bottom of the dust jacket. Minor damage to the top of the dust jacket and the front cover. (The damage to the front cover is a small smudge mark.) Previous owner's name written in, then blacked out on the fly page. Check mark on the fly page.