---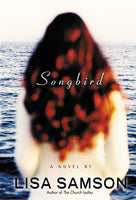 After her mama dropped out of her life, Myrtle Charmaine dropped her first name forever. But eleven-year-old Charmaine has her singing and her beloved Sunday school teacher, who takes her into her own God-fearing family. Yet Charmaine's out-of-the-ordinary odyssey has only just begun...

There are foster homes ... a fateful encounter with a college man when she is barely fourteen ... and gigs that range from the down-home sweetness of the Suds 'n' Strikes Forever bowling alley to the rhinestone dazzle of Atlantic City to the pure joy of singing gospel in church. And when a traveling preacher named Harlan who loves the Word and her arrives, Charmaine knows for sure God is smiling at her. Still, even on a countrywide crusade, her ineffable sense of longing lingers. It will lead her to paths Harlan would never approve of - if he knew! And to something that can end her sadness and give her the keys to healing.
Used. Paperback. Good condition. Some wear and tear. Medium shelf wear to the bottom of the book. Medium damage to the corners. Minor damage to the spine and top of the book. Price sticker on the back cover from previous seller. Price marked in pencil by current seller.