---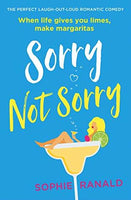 s this all there is? I hadn't had so much as a sniff of a shag for over a year. I scraped the last dregs of Caramel Chew Chew ice cream out of the bottom of the tub with my finger and licked it. It left a sticky smear on my phone's screen when I typed into Google, "How to find love, sex and happiness."

Charlotte has always been a good girl.

She sorts her paper from her plastic. She eats her greens (even Spirulina, whatever that is). Boozy brunches with her best friends on the third Sunday of every month are about as bad as she gets.

But being good is getting boring…

Charlotte's not just stuck in a rut – she's buried in it up to her chin. The only company she has in bed is the back catalogue of Netflix and falling in love feels like the stuff of fairy tales. So when she stumbles across a popular podcast, Sorry Not Sorry, which challenges women to embrace their inner bad girl, she jumps at the chance to shake things up.

Old Charlotte would never ask for a stranger's number, go on a blind date or buy lacy lingerie… But New Charlotte is waving goodbye to her comfort zone (with a side order of margaritas). And it turns out that good things happen to bad girls, as Charlotte finally finds her Mr Right – or so she thinks… Is falling in love too tough a challenge even for Charlotte?

Used. Excellent condition. Minimal wear and tear. Minor shelf wear to the bottom of the book. Minor damage to the top of the book.