---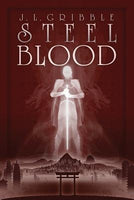 As her children begin lives of their own, Victory struggles with the loneliness of an empty nest. Just when the city of Limani could not seem smaller, an old friend requests that she come out of retirement for one final mercenary contract--to bodyguard his granddaughter, a princess of the Qin Empire.

For the first time in a century, the Qin and British Empires are reopening diplomatic relations. Alongside the British delegation, Victory and her daywalker Mikelos arrive in the Qin colony city of Jiang Yi Yue. As the Qin weredragons and British werewolves take careful steps toward a lasting peace between their people, a connection between the Qin princess and a British nobleman throw everyone's plans in disarray.

Meanwhile, a third faction stalks the city under the cover of darkness.

This is not a typical romance. It's a good thing Victory is not a typical vampire.
New.