---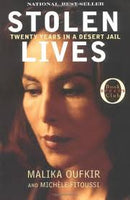 A gripping memoir that reads like a political thriller--the story of Malika Oufkir's turbulent and remarkable life. Born in 1953, Malika Oufkir was the eldest daughter of General Oufkir, the King of Morocco's closest aide. Adopted by the king at the age of five, Malika spent most of her childhood and adolescence in the seclusion of the court harem, one of the most eligible heiresses in the kingdom, surrounded by luxury and extraordinary privilege.
Then, on August 16, 1972, her father was arrested and executed after an attempt to assassinate the king. Malika, her five younger brothers and sisters. and her mother were immediately imprisoned in a desert penal colony. After fifteen years, the last ten of which they spent locked up in solitary cells, the Oufkir children managed to dig a tunnel with their bare hands and make an audacious escape. Recaptured after five days, Malika was finally able to leave Morocco and begin a new life in exile in 1996.
A heartrending account in the face of extreme deprivation and the courage with which one family faced its fate, Stolen Lives is an unforgettable story of one woman's journey to freedom.
Used. Paperback. Good condition. Some wear and tear. Medium shelf wear to the bottom of the book. Small rip and crease on the bottom of the front cover. Medium damage to the spine and top of the book.