---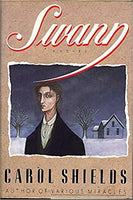 Who is Mary Swann?
In this novel of a writer's revenge, an uneducated farmer's wife delivers a paper bag filled with scraps of her poems to the publisher of a small press. Hours later, she's dead, murdered by her husband. Fifteen years on, her book of one hundred twenty-five poems—Mary Swann's sole claim to fame—is discovered by an American academic. And a literary odyssey begins.
Four narrators—Sarah Maloney, a feminist writer; Frederic Cruzzi, an editor; Morton Jimroy, a biographer; and Rose Hindmarch, Mary's only friend—all have a stake in the deceased poet's work. Their chorus of voicesopens a fascinating window on what constitutes genius. As the four descend into a quagmire of ego, jealousy, and backstabbing, Mary Swann comes back to life—in the minds and hearts of those who love and hate her most. Full of mischief,  Swann  is a novel about life, death, and the ideas that live on after us.
Used. Paperback. Good condition. Some wear and tear. Minor damage to the corners and spine of the book. Medium shelf wear to the bottom of the book. Price sticker on the back cover from previous seller. Price marked in pencil by current seller.