---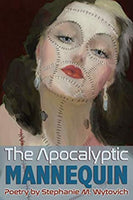 Doomsday is here and the earth is suffering with each breath she takes. Whether it's from the nuclear meltdown, the wrath of the Four Horsemen, a war with technology, or a consequence of our relationship with the planet, humanity is left buried and hiding, our bones exposed, our hearts beating somewhere in our freshly slit throats.

The Apocalyptic Mannequin by Stephanie M. Wytovich is a collection that strips away civilization and throws readers into the lives of its survivors. The poems inside are undelivered letters, tear-soaked whispers, and unanswered prayers. They are every worry you've had when your electricity went out, and every pit that grew in your stomach watching the news at night. They are tragedy and trauma, but they are also grief and fear, fear of who--or what--lives inside us once everything is taken away.

These pages hold the teeth of monsters against the faded photographs of family and friends, and here, Wytovich is both plague doctor and midwife, both judge and jury, forever searching through severed limbs and exposed wires as she straddles the line evaluating what's moral versus what's necessary to survive.

What's clear though, is that the world is burning and we don't remember who we are.
New.