---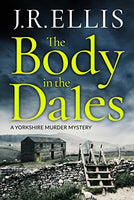 An unpopular victim. An impossible crime. A murderer on the loose.

A body is discovered deep in a cave beneath the Yorkshire Dales. Leading the investigation into the mysterious death are experienced DCI Jim Oldroyd and his partner DS Carter, a newcomer from London.

The deceased is Dave Atkins, well known throughout the village but not well liked. While there is no shortage of suspects, the details of the crime leave Oldroyd and Carter stumped. How did Atkins's body end up in such a remote section of the cave? When someone with vital information turns up dead, it becomes clear that whoever is behind the murders will stop at nothing to conceal their tracks.

Oldroyd and his team try to uncover the truth, but every answer unearths a new set of questions. And as secrets and lies are exposed within the close-knit community, the mystery becomes deeper, darker and more complex than the caves below.

Used. Paperback. Good condition. Some wear and tear. Minor shelf wear to the bottom of the book. Price marked in pencil.