---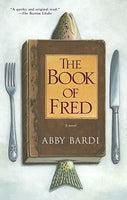 Mary Fred Anderson, raised in an isolated fundamentalist sect whose primary obsessions seem to involve an imminent Apocalypse and the propagation of the name "Fred," is hardly your average fifteen-year-old. She has never watched TV, been to a supermarket, or even read much of anything beyond the inscrutable dogma laid out by the prophet Fred. But this is all before Mary Fred's whole world tilts irrevocably on its axis: before her brothers, Fred and Freddie, take sick and pass on to the place the Reverend Thigpen calls "the World Beyond"; before Mama and Papa are escorted from the Fredian Outpost in police vans; and Mary Fred herself is uprooted and placed in foster care with the Cullison family. It is here, at Alice Cullison's suburban home outside Washington, D.C., where everything really changes -- for all parties involved.

Mary Fred's new guardian, Alice, is a large-hearted librarian who, several years after her divorce, can't seem to shake her grief and loneliness. Meanwhile, Alice's daughter Heather, also known as Puffin, buries any hint of her own adolescent loneliness beneath an impenetrable armor of caustic sarcasm, studied apathy, and technicolor hair. And the enigmatic Uncle Roy is Alice's perennially jobless and intensely private brother. As Mary Fred struggles to adjust to the oddities of this alien world, from sordid daytime television and processed food to aromatherapy and transsexuality, she gradually begins to have an unmistakable influence on the lives of her housemates. But when a horrifying act of violence shakes the foundations of Mary Fred's fragile new family, she finds herself forced to confront, painfully, the very nature of the way she was raised.

With a knack for laying bare the absurdities of daily life, Abby Bardi captures, with grace and authority, all the ambivalence and emotional uncertainty at the heart of these quirky characters' awakenings.
Used. Paperback. Good condition. Some wear and tear. Minor shelf wear to the bottom of the book. Small rip where the the bottom of the back cover meets the spine. Minor shelf wear to the bottom of the book. Minor damage to the top of the book. Price marked in pencil.