---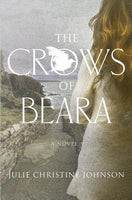 When Annie Crowe travels from Seattle to a small Irish village to promote a new copper mine, her public relations career is hanging in the balance. Struggling to overcome her troubled past and a failing marriage, Annie is eager for a chance to rebuild her life.
Yet when she arrives on the remote Beara Peninsula, Annie learns that the mine would encroach on the nesting ground of an endangered bird, the Red-billed Chough, and many in the community are fiercely protective of this wild place. Among them is Daniel Savage, a local artist battling demons of his own, who has been recruited to help block the mine.
Despite their differences, Annie and Daniel find themselves drawn toward each other, and, inexplicably, they begin to hear the same voice--a strange, distant whisper of Gaelic, like sorrow blowing in the wind.
Guided by ancient mythology and challenged by modern problems, Annie must confront the half-truths she has been sent to spread and the lies she has been telling herself. Most of all, she must open her heart to the healing power of this rugged land and its people.
New.