---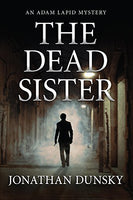 Tel Aviv, 1949 - A young Arab woman lies murdered in the city morgue and no one seems to care. The newspapers won't report it. The police won't investigate. No one is trying to solve the case.

Except one man.

Private detective Adam Lapid is the only one investigating the murder. And he won't rest until the killer is off the streets.

Adam's investigation soon plunges him into a sordid underworld of crime and depravity. An underworld that hides a ruthless killer with a twisted mind.

To catch the murderer, Adam must use all his skills. And if he's not careful, he'll be the one who ends up dead next.
Used. Paperback. Good condition. Minor shelf wear to the bottom of the book. Minor damage to the back cover near the top and the spine of the book. Smudge marks on the front and back covers of the book. Price marked in pencil.