---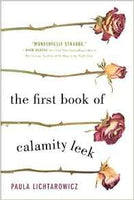 Books tell you what to believe.
Books explain the world around you.
What if a book had been written to explain a world constructed for you?
What if that world suddenly fell apart?

Calamity Leek needs a new book, but she's going to have to write it herself.
Used. Paperback. Good condition. Some wear and tear. Some very minor damage to the front cover. Smudge mark to the back cover. Minor shelf wear to the bottom of the book.