---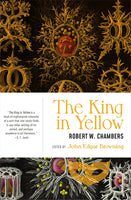 "This is the thing that troubles me, for I cannot forget Carcosa, where black stars hang in the heavens, where the shadows of men's thoughts lengthen in the afternoon when the twin suns sink into the Lake of Hali; and my mind will bear forever the memory of the Pallid Mask."
Reader, have you ever wondered who struck fear into the heart of H. P. Lovecraft? It was Robert Chambers. Now, the terror visits you.
A wicked link in a terrifying lineage, the tales contained in The King in Yellow have inspired generations of American horror writing. Look toward unspeakable Hastur and tell yourself these are only tales. Behold the Yellow Sign and convince yourself that, after all—it's only a book.
Welcome, dear reader, to Carcosa.
New.