---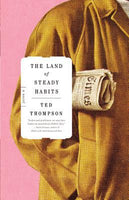 Anders Hill, entering his early sixties and seemingly ensconced in the "land of steady habits" -- a nickname for the affluent, morally strict hamlets of Connecticut that dot his commuter rail line -- abandons his career and family for a new condo and a new life. Stripped of the comforts of his previous identity, Anders turns up at a holiday party full of his ex-wife's friends and is surprised to find that the very world he rejected may be the one he needs.

Thus Anders embarks on a clumsy, hilarious, and heartbreaking journey to reconcile his past with his present. Like the early work of John Updike, Ted Thompson's first novel finely observes a man in deep conflict with his community. With compassion for its characters and fresh insight into the American tradition of the "suburban narrative," The Land of Steady Habits introduces an auspicious talent.
Used. Hardback. Good condition. Some wear and tear. Medium shelf wear to the bottom of the dust jacket. Medium damage to the top of the dust jacket. Smudge marks on the front cover near the title. Price sticker on the back cover from previous seller. Price marked in pencil by current seller.