---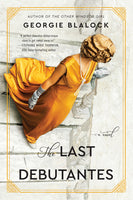 They danced the night away, knowing their world was about to change forever. They were the debutantes of 1939, laughing on the outside, but knowing tragedy— and a war—was just around the corner.

When Valerie de Vere Cole, the niece of Prime Minister Neville Chamberlain, makes her deep curtsey to the King and Queen of England, she knows she's part of a world about to end. The daughter of a debt-ridden father and a neglectful mother, Valerie sees firsthand that war is imminent.

Nevertheless, Valerie reinvents herself as a carefree and glittering young society woman, befriending other debutantes from England's aristocracy as well as the vivacious Eunice Kennedy, daughter of the U.S. Ambassador. Despite her social success, the world's troubles and Valerie's fear of loss and loneliness prove impossible to ignore.

  How will she navigate her new life when everything in her past has taught her that happiness and stability are as fragile as peace in our time? For the moment she will forget her cares in too much champagne and waltzes. Because very soon, Valerie knows that she must find the inner strength to stand strong and carry on through the challenges of life and love and war. 
Used. Paperback. Good condition. Some wear and tear. Minor shelf wear to the bottom of the book. Minor damage to the top of the book.