---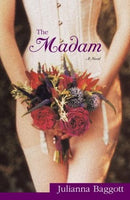 West Virginia, 1924: Alma works in a hosiery mill where the percussive roar of machinery has far too long muffled the engine that is her heart. When Alma's husband decides that they should set out to find their fortune in Florida, Alma has little choice but to leave her three children and ailing mother behind. But when Alma is then abandoned at a Miami dock, she is suddenly forced to make her own way in the world. With the help of a gentle giantess and an opium-addicted prostitute, Alma reclaims her children from the orphanage and forges ahead with an altogether new sort of family. As an act of survival, she chooses to run a house of prostitution, a harvest that relies on lust and weakness in men, of which "the world has a generous, unending supply."
The Madam is the story of a house of sin. It is here where Alma's children will learn everything there is to know about "love and loss, sex and betrayal." Based on the real life of the author's grandmother, The Madam is a tale of epic proportions, one that will haunt readers long after its stunning conclusion.
Used. Hardcover. Good condition. Some wear and tear. Minor damage to the top of the book. Minor shelf wear to the bottom of the book. Price marked in pencil.