---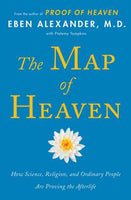 When Dr. Eben Alexander told the story of his near-death experience and his vivid journey to the other side, many readers wrote to say it resonated with them profoundly. Thanks to them, Dr. Alexander realized that sharing his story allowed people to rediscover what so many in ancient times knew: there is more to life, and the to the universe, than this single earthly life.

Dr. Alexander and his co-author Ptolemy Tompkins were surprised to see how often his readers' visions of the afterlife synced up with each other and with those of the world's spiritual leaders, as well as its philosophers and scientists. In The Map of Heaven, he shares the stories people have told him and shows how they are echoed both in the world's faiths and in its latest scientific insights. It turns out there is much agreement, across time and terrain, about the journey of the soul and its survival beyond death.

In this book, Dr. Alexander makes the case for heaven as a genuine place, showing how we have forgotten, but are now at last remembering, who we really are and what our destiny truly is. 
Used. Paperback. Good condition. Some wear and tear. Minor shelf wear to the bottom of the book. Minor damage to the corners and top of the book. 20% off sticker from Target on the front of the book.