---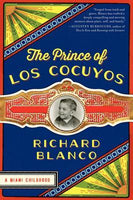 A poignant, hilarious, and inspiring memoir from the first Latino and openly gay inaugural poet, which explores his coming-of-age as the child of Cuban immigrants and his attempts to understand his place in America while grappling with his burgeoning artistic and sexual identities.

Richard Blanco's childhood and adolescence were experienced between two imaginary worlds: his parents' nostalgic world of 1950s Cuba and his imagined America, the country he saw on reruns of The Brady Bunch and Leave it to Beaver—an "exotic" life he yearned for as much as he yearned to see "la patria."

Navigating these worlds eventually led Blanco to question his cultural identity through words; in turn, his vision as a writer—as an artist—prompted the courage to accept himself as a gay man. In this moving, contemplative memoir, the 2013 inaugural poet traces his poignant, often hilarious, and quintessentially American coming-of-age and the people who influenced him.

A prismatic and lyrical narrative rich with the colors, sounds, smells, and textures of Miami, Richard Blanco's personal narrative is a resonant account of how he discovered his authentic self and ultimately, a deeper understanding of what it means to be American. His is a singular yet universal story that beautifully illuminates the experience of "becoming;" how we are shaped by experiences, memories, and our complex stories: the humor, love, yearning, and tenderness that define a life. 
Used. Hardcover. Some minor shelf wear to the bottom of the book. Minor damage to the top of the dust jacket.