---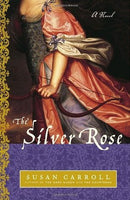 From Brittany's fog-shrouded forests to the elegant dark heart of Paris's royal court, one woman must challenge a country's destiny-and her own dangerous fate.

France, 1585. She is the youngest and most powerful of the "Sisters of Faire Isle," women known far and wide for their extraordinary mystical abilities. Skilled in healing and able to forecast the future of those around her, Miri Cheney has returned to her ancestral home to take refuge from a land devastated by civil war-and to grieve for her family, driven to exile. But she cannot hide from the formidable new power threatening to seize control of France from the dread "Dark Queen," Catherine de Medici-a diabolical woman known only as the Silver Rose. Miri has no choice but to turn to the one man she distrusts as much as she desires: Simon Aristide, the charismatic witch-finder who is now himself the hunted, and who has reluctantly made an unholy pact with Catherine. Miri must defy throne and family to save all that she loves most-and command a future greater than she could ever imagine.
Used. Paperback. Good condition. Some wear and tear. Medium damage to the spine and top of the book. Minor damage to the top of the book. Medium shelf wear to the bottom of the book.