---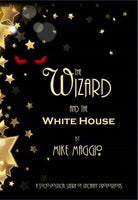 President Gerald Wellington Thorne, a bumbling, ineffective leader, wakes up one morning to discover that his mouth has disappeared.

On the very same day, Larry White, a porter at Union Station, wakes up from a long night of drinking and realizes that he now has two mouths. His wife decides that this is actually a blessing in disguise, one that offers her a chance to save her husband from drink and eternal damnation. She enlists the help of her pastor, who in turn recognizes this as his once-in-a-lifetime chance to transform his run-down storefront mission into a lucrative mega-church.

And while Thorne and White are assessing their respective dilemmas, Fuzzaluddin Choudry, a humble and affable immigrant butcher from Pakistan, hears the voice of God in a water spout in Washington, DC's Tidal Basin. The voice tells him that he has been chosen to save the President of the United States.

What evil force is behind this madness? Will the world ever be the same? Would it be better if we had a President without a mouth?

The Wizard and the White House is a delightful fantasy full of humor and imagination. Mike Maggio's take on the clash of cultures in contemporary American life will leave you smiling… and perhaps wondering whether the foolishness we are witnessing in today's politics could be improved only through a good dose of magic.
New.