---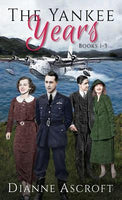 After the Allied troops arrived in County Fermanagh, Northern Ireland during the Second World War, life in the quiet, rural county would never be the same again.

Book 1: The Shadow Ally
June 1941: When Ruth Corey finds a letter her journalist boyfriend, Harry Coalter, has written, revealing details of the secret construction of an American flying-boat base, she fears he will disclose information that could destroy America's neutrality and land him in serious trouble. The letter must not be posted. Ruth enlists the help of a guest at her family's hotel, attractive Italian-American civilian contractor Frank Long, to help her stop Harry.
Can Ruth safeguard this military secret and protect her beau?
December 1941
: The attack on Pearl Harbor and America's entry into the war have eliminated the need for secrecy surrounding the construction of the American flying-boat base but now there is an urgency to complete the project before the first US troops arrive on Northern Ireland's shores. Frank is doing his utmost to ensure the airbase will be ready but religious conflict within the workforce and suspected IRA involvement in the theft of materials and tools from the construction site make his job nearly impossible. When Frank confides his worries to Ruth, despite the risks entailed in meddling in the activities of terrorists, the pair devise a plan to catch the thieves.
Can Ruth and Frank stop the acts of sabotage that threaten the military project and what does the future hold for the two of them?
Book 3:
Keeping Her Pledge
June 1942
: Pearl Grainger's life is much more exciting since the Allied troops arrived. She's out dancing several times each week and she has met RCAF seaplane navigator, Pilot Officer Chuck Walker who quickly becomes special to her. The harsh realities of war are far removed from her until the evening an RCAF flying-boat crashes into a field on her family's farm. Watching her family attempt to rescue the crew from the burning wreckage, she realises it's time she played her part in the war effort and resolves to volunteer at the nearby US Army Station Hospital. Pearl's intentions are good but she is unprepared for the harsh reality of a hospital during wartime, and her RCAF boyfriend is determined to protect her from it.
Can Pearl keep her pledge to do her bit for the war effort without losing the man she loves?
A tale for fans of Annie Murray, Ellie Dean and Margaret Dickinson.
Used. Mass market paperback. Excellent condition. Minimal wear and tear. Minor shelf wear to the bottom of the book. Price marked in pencil.