---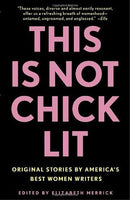 New short stories from Chimamanda Ngozi Adichie • Aimee Bender • Judy Budnitz • Jennifer S. Davis • Jennifer Egan • Carolyn Ferrell • Mary Gordon • Cristina Henríquez • Samantha Hunt •Binnie Kirshenbaum • Dika Lam • Caitlin Macy • Francine Prose • Holiday Reinhorn • Roxana Robinson • Curtis Sittenfeld • Lynne Tillman • Martha Witt

Chick lit: A genre of fiction that often recycles the following plot: Girl in big city desperately searches for Mr. Right in between dieting and shopping for shoes. Girl gets dumped (sometimes repeatedly). Girl finds Prince Charming.

This Is Not Chick Lit is a celebration of America's most dynamic literary voices, as well as a much needed reminder that, for every stock protagonist with a designer handbag and three boyfriends, there is a woman writer pushing the envelope of literary fiction with imagination, humor, and depth.

The original short stories in this collection touch on some of the same themes as chick lit–the search for love and identity–but they do so with extraordinary power, creativity, and range; they are also political, provocative, and, at turns, utterly surprising. Featuring marquee names as well as burgeoning talents, This Is Not Chick Lit will nourish your heart, and your mind.
Used. Paperback. Acceptable condition. Some wear and tear. Medium damage to the corners of the book. High damage to the spine of the book. Price sticker on the back from Target. Price marked in pencil.