---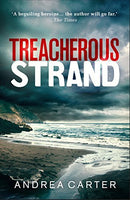 A woman's body washes up on a remote beach on the Inishowen peninsula. Partially-clothed, with a strange tattoo on her thigh, she is identified as Marguerite Etienne, a French woman who has been living in the area.
Solicitor Benedicta 'Ben' O'Keeffe is consumed by guilt; Marguerite was her client, and for the second time in her life Ben has failed someone who needed her, with tragic consequences. So when local Sergeant Tom Molloy dismisses Marguerite's death as the suicide of a disturbed and lonely woman, Ben cannot let it lie.
Ben uncovers Marguerite's strange past as a member of a French doomsday cult, which she escaped twenty years previously but not without leaving her baby daughter behind. Disturbed by what appears to be chilling local indifference to Marguerite's death, Ben pieces together the last few weeks of the French woman's life in Inishowen. What she discovers causes her to question the fragile nature of her own position in the area, and she finds herself crossing boundaries both personal and professional to unearth local secrets long buried.
Used. Paperback. Good condition. Some wear and tear. Minor damage to the back cover, top, and spine of the book. Minor shelf wear to the bottom of the book. Price marked in pencil.