---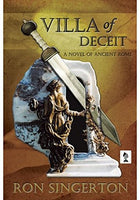 Rome, 70 B.C.E.
A house in turmoil: a controlling father, an adulterous mother, and an angry son made reckless by a forbidden love. Young Gaius defies his father Toronius, fleeing with a slave girl whom he marries, only to see her die in childbirth. Disinherited and grieving, Gaius leaves his infant son Tacitus behind with a trusted aunt and devotes his life to the sword.
On the battle field Gaius is trained and tempered into a hardened veteran of war. His leadership and bravery in campaigns earn him respect and the rank of Senior Centurion. But his greatest challenge is returning home to face his son Tacitus, now grown to a wild, undisciplined youth. Gaius forces the errant boy against his wishes into the army that he may be molded into a man.
Like Gaius before him, Tacitus must fight to become his own man in defiance of his father. But together as Legionnaires, they must survive an invasion mired by betrayal and confront the fury of war.
New.