---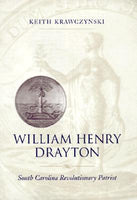 In this exhaustive biography, Keith Krawczynski details the political and social career of William Henry Drayton (1742-1779), an ambitious, wealthy lowcountry planter and zealous patriot leader who was at the center of Revolutionary activity in South Carolina from 1774 until his death five years later. Considered the most effective Whig polemicist in the lower South, Drayton served on all his state's important Revolutionary governing bodies, commanded a frigate of war, was elected chief justice in 1776, co-authored South Carolina's 1778 constitution, and represented the state in the Continental Congress from 1778 until his demise. Although Drayton was a leading radical and the central figure of the American Revolution in South Carolina, historians have largely ignored his contributions. With William Henry Drayton, Krawczynski removes this fascinating man from the shadows of history.



Drayton was an improbable rebel. After receiving his formal education in England, the South Carolina-born Drayton returned to his birthplace as a planter and continued to espouse Royalist ideals. During a later visit to Britain, he was hailed as a champion of British sovereignty. In fact, South Carolina harbored few early revolutionaries, as low-country planters and merchants remained entrenched in the imperial system of trade, backcountry residents strongly identified with the king, and whites feared showing division lest their slaves launch a rebellion. Yet, disgruntled with the king's increasing infringement on American liberties, Drayton embraced the rebel cause with the zealotry of a recent convert and eventually did more to resist British rule than any other resident of the Palmetto State.

Because he entered the Revolution as a supporter of the Crown, Drayton's life sheds light on why the planter-mercantile gentry rebelled against the mother country on which it relied for its economic status. His energetic attempts to preserve the provincial hierarchy and keep the reins of government firmly in the hands of the local aristocracy also help to explain why South Carolina's rebellion was more politically conservative than that of other states.

Used. Good condition. Minimal wear and tear. Price marked in pencil by previous seller.